BG/ENG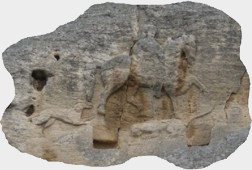 "The Madara Horseman"
(Modelling in ADvAnced Research Actions)
NATIONAL SCIENCE FUND SCIENCE INFRASTRUCTURE COMPETITION – 2008 RNF01/0110
COMPUTER SYSTEM FOR ADVANCED STUDIES IN MOLECULAR DESIGN,  NEW MATERIALS AND NANOTECHNOLOGY
Partner Institutions in Consortium 'MADARA'
Institute of Organic Chemisry with Centre of Phytochemistry of the Bulgarian Academy of Sciences IOCCP-BAS)  – affiliating organization
Institute for Parallel Processing (IPP – BAS)
Institute of General and Inorganic Chemisrty (IGIC – BAS)
Centre of Biomedical Engineering "Prof. Ivan Daskalov" (CBE – BAS)
The University of Sofia "St. Kliment Ohridsky"
The University of Plovdiv "Paisii Hilendarski"
South-West University "Neophit Rilski" – Blagoevgrad
Institute of Physical Chemistry "Acad. Rostislav Kaishev" (IPC – BAS)
Institute of Catalysis (IC – BAS)
Institute of Polymers (IP – BAS)
Institute of Chemical Engineering (IChE – BAS)
Central Laboratory of Optical Storage and Processing of Information (CLOSPI – BAS)
Management Board
Prof. D.Sc. Petko Ivanov  – IOCCP-BAS (Project Leader)
Assoc. Prof. PhD Natasha Trendafilova (Vice-Coordinator) – IGIC – BAS
Assoc. Prof. PhD Emanouil Atanassov – IPP-BAS
Prof. PhD Alia Tadjer – The University of Sofia
Assoc. Prof. PhD Atanas Terziyski– The University of Plovdiv
Prof. D.Sc. Ilza Pajeva – CBE – BAS
Assoc. Prof. PhD Valentin Alexiev – IC – BAS
Assoc. Prof. PhD Vesselin Tonchev – IPC – BAS
Assoc. Prof. PhD Tsvetan Sapundzhiev – IChE – BAS
Assoc. Prof. PhD Elena Stoykova – CLOSPI – BAS
Assoc. Prof. PhD Zhivko Velkov – South-West University
Prof. D.Sc. Kolio Troev – IP – BAS
Tо establish a National Computing Centre with an up-to-date computer system and advanced software for modelling and simulations in the field of chemistry and materials science

SPECIFIC PROJECT OBJECTIVES
• To provide support for advanced research in molecular design, new materials and nanotechnology at a national level;
• To achieve collaboration for this project at a national level in order to use funding in the most efficient manner possible;
• To train and qualify scientists from educational and scientific institutions for unaided use of modern computational chemistry methods;
• To disseminate research results and their application to the society and the industry;
• To support use of top-of-the line computer hardware and modelling and simulation software through better integration in the international scientific exchange.

Expected Results
(i). Creation of a National Computer System for Advanced Research in Molecular Design, New Materials and Nanotechnology at IOCCP–BAS, which will act as a leading regional scientific, educational and consulting center for modelling and simulation studies in chemistry.
(ii). Improvement of the research capacity of academic and institutions in the country through provision of powerful hardware and software for modelling and large-scale simulations of complex chemical systems.
(iii). Focusing of the research and the educational activities towards creation of conditions for sustainable connection between the research infrastructure and the innovation actions of respective branch enterprises in Bulgaria.
(iv). Assistance and help of the competent security authorities in the country with the design and theoretical analysis of unknown compounds for prevention of incidents (terrorism, production, ecology etc.)
(v). Support of the regulatory organizations in the assessment of chemical risk according to the requirements of the new European chemical legislation REACH.
(vi). Strengthening of the cooperation with leading Computational chemistry laboratories in Europe for successful integration of Bulgaria in the European Research Area and in the common market of EU. Strengthening of the cooperation with Computational chemistry laboratories in the region of South-East Europe (Macedonia, Serbia, Romania, Greece and Turkey).
(vii). Improvement of the education of theoretical/computational chemistry in chemical universities, faculties and research institutes in the country through effective training of master course and PhD students, young researchers and specialists with close profiles and interests.
(viii). Dissemination of knowledge for these very important methods in the scientific, industrial and other communities.
The availability of up-to-date computer hardware equipment will raise the level of the scientific and applied investigations und will allow better involvement in international projects and in the 7th Frame Program of the EU.